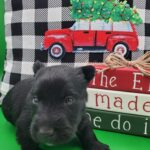 Logan – Male – Solid Black with barely, Milk Chin – Scottish Terrier Puppy
October 29, 2023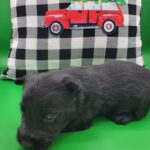 Keith – Male – Solid Black Scottish Terrier Puppy – Reserved
October 29, 2023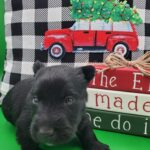 Logan – Male – Solid Black with barely, Milk Chin – Scottish Terrier Puppy
October 29, 2023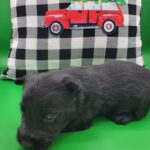 Keith – Male – Solid Black Scottish Terrier Puppy – Reserved
October 29, 2023
Graham - Male - Black with hints of Brindle and a Milk Chin - Scottish Terrier Puppy
Ready to Go Home in December!
In a world of wags, there's a pup named Graham,
With eyes so wise, like an endless dream.
A wagging tail and a heart that's true,
He's here to share a lifetime of love with you.
With every sunrise and the evening's grace,
Graham's devotion will light up the place.
In his presence, life's an adventure untold,
With Graham by your side, your heart will unfold.
Together we'll journey, through thick and thin,
In this tale of friendship, we both will win.
If you seek a loyal companion, strong and kind,
Choose Graham, and a bond forever intertwined.