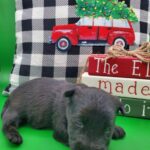 Graham – Black with hints of Brindle and a Milk Chin – Scottish Terrier Puppy
October 29, 2023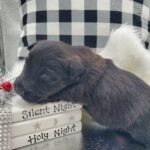 Skye – Female – Black/Brindle Female with small Milk Spill on chin and throat – Scottish Terrier Puppy
November 9, 2023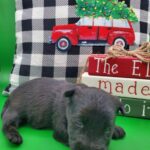 Graham – Black with hints of Brindle and a Milk Chin – Scottish Terrier Puppy
October 29, 2023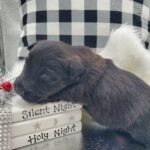 Skye – Female – Black/Brindle Female with small Milk Spill on chin and throat – Scottish Terrier Puppy
November 9, 2023
Keith - Male - Solid Black Scottish Terrier Puppy
Ready to Go Home in December!
In a world of wags, there's a pup named Keith,
With eyes so warm, his love is truly beneath.
A wagging tail and a heart so dear,
He's here to bring joy and dispel every fear.
With each dawn's light and the soft moon's glow,
Keith's devotion will always brightly show.
In his presence, life's a song so sweet,
With Keith by your side, your journey's complete.
Together we'll explore, side by side we'll roam,
In this story of friendship, we'll find our home.
If you seek a loyal companion, loving and true,
Choose Keith, and he'll always be there for you.