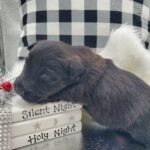 Skye – Female – Black/Brindle Female with small Milk Spill on chin and throat – Scottish Terrier Puppy
November 9, 2023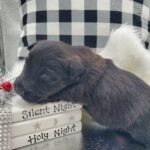 Skye – Female – Black/Brindle Female with small Milk Spill on chin and throat – Scottish Terrier Puppy
November 9, 2023
Lona - Female - Black Female with a hint of Brindle and Large Milk Spill - Scottish Terrier Puppy
Ready to Go Home in December!
In a world of tails, meet Amelia, so dear,
With eyes that sparkle, and a spirit sincere.
A wagging tail and a heart so true,
She's here to share a love that's pure and new.
With every sunrise and the soft moon's embrace,
Amelia's devotion shines in every space.
In her company, life is a beautiful rhyme,
With Amelia by your side, it's the perfect time.
Together we'll explore, in each other confide,
In this journey of friendship, side by side.
If you're seeking a companion, loyal and fair,
Choose Amelia, and a bond beyond compare.